The #SaySomethingNice has started on 31st August 2013 and our partners' and supporters' spaces are abuzz with their activities for the campaign. Until the campaign period ends on 16th September, our partners and supporters are spreading the message of #SaySomethingNice where they showcase the best of Malaysia while doing something good for the nation. This is what some of our partners and supporters have been doing with the #SaySomethingNice campaign so far.
Sunway Pyramid
On 29th August 2013, the #SaySomethingNice campaign was kicked off officially with Sunway Pyramid's launch. Supporters of the campaign, friends of zubedy, and members of the media came to make the event a memorable one.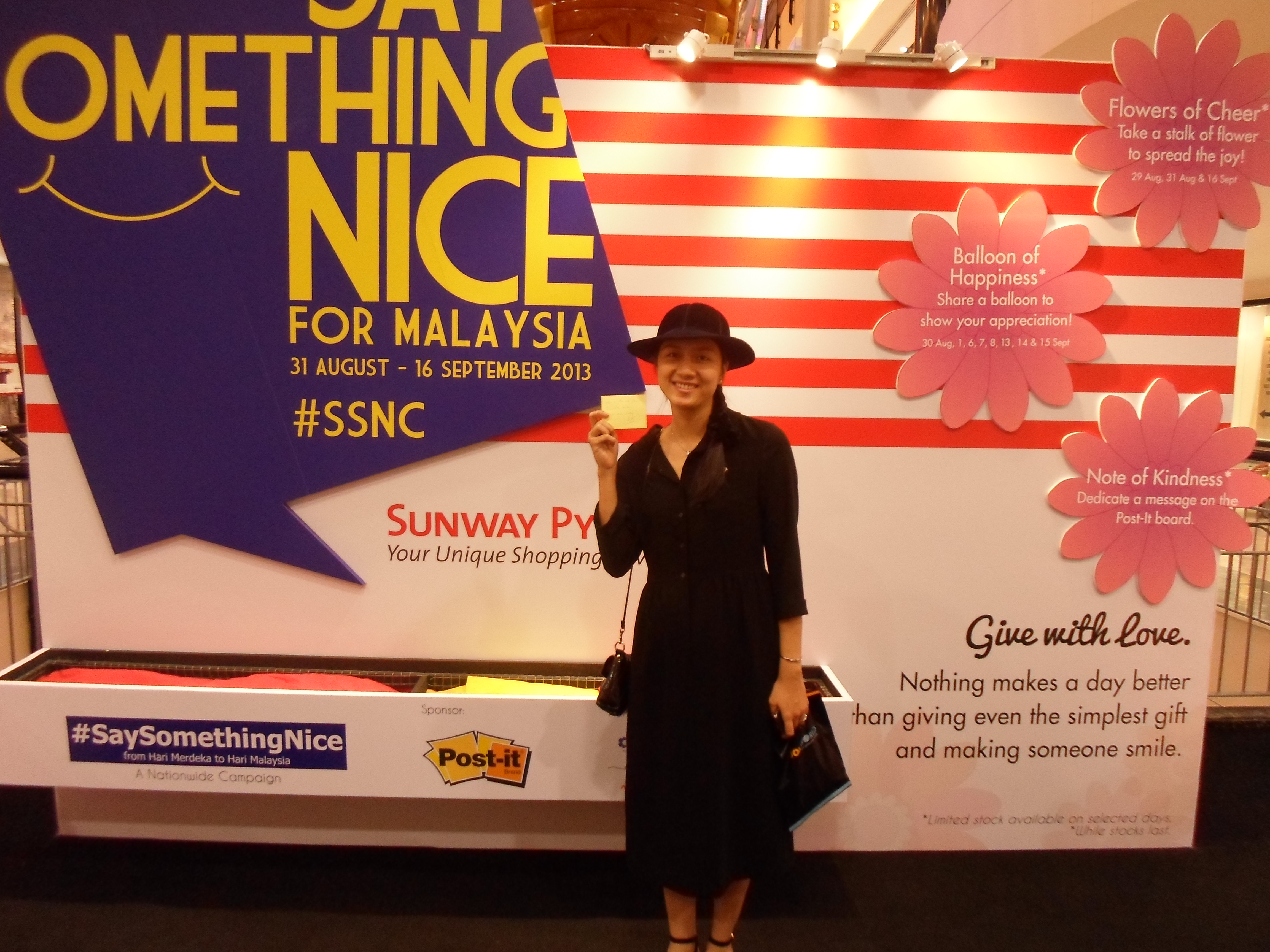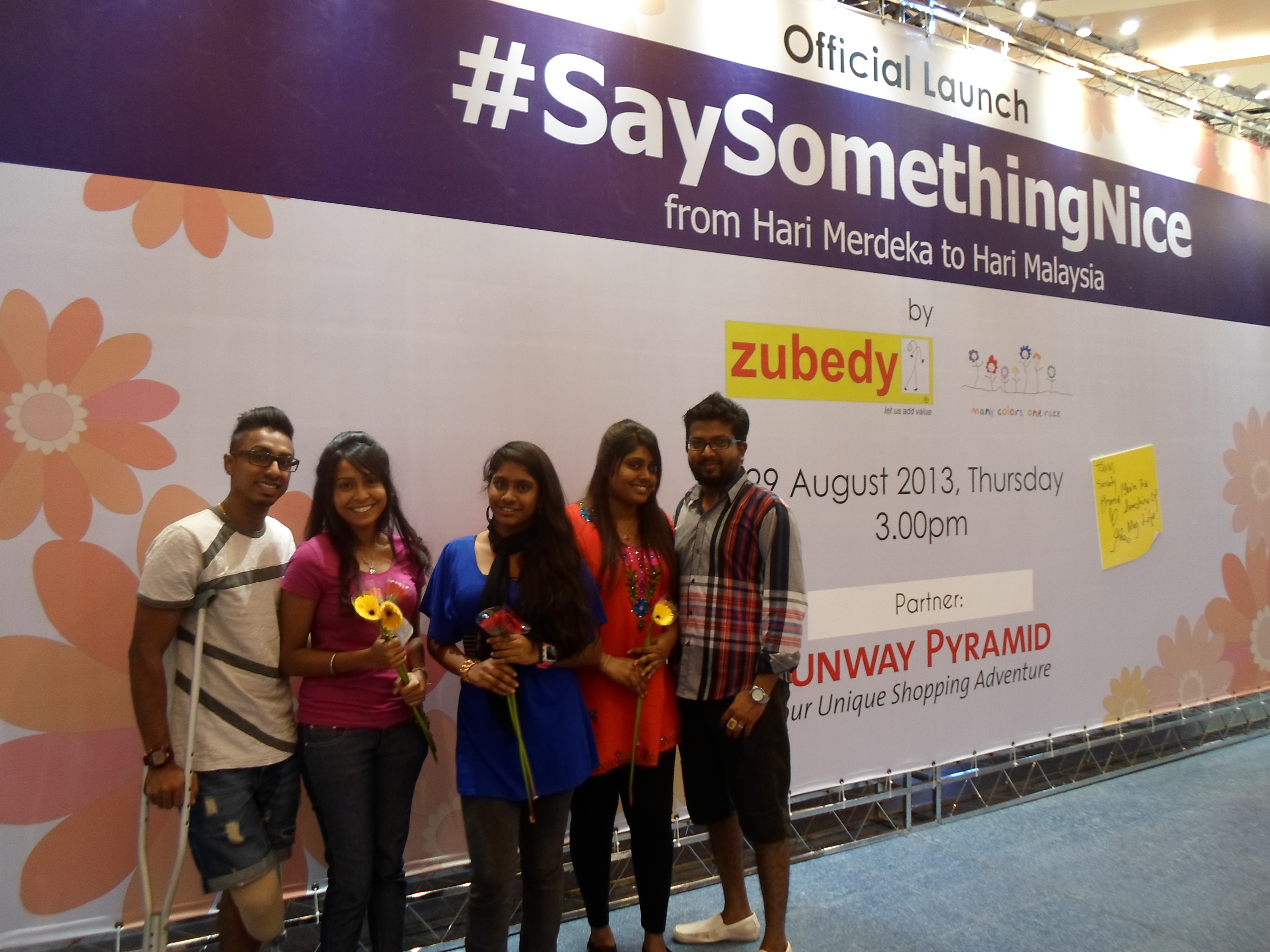 After the launch, Sunway Pyramid surprised its shoppers with giving away 1,000 flowers and balloons to everyone. Each of these flowers and balloons came with small notes of cheer and happiness that put a smile on everyone's face.
For the stretch of the campaign, Sunway Pyramid has provided a space for other supporters of the campaign to showcase their way of doing the campaign. The booths at Sunway Pyramid welcome shoppers to write positive messages on Post-Its and put the up on pillars for others' delight. Other than that, posters of #SaySomethingNice are given away at the booth as well.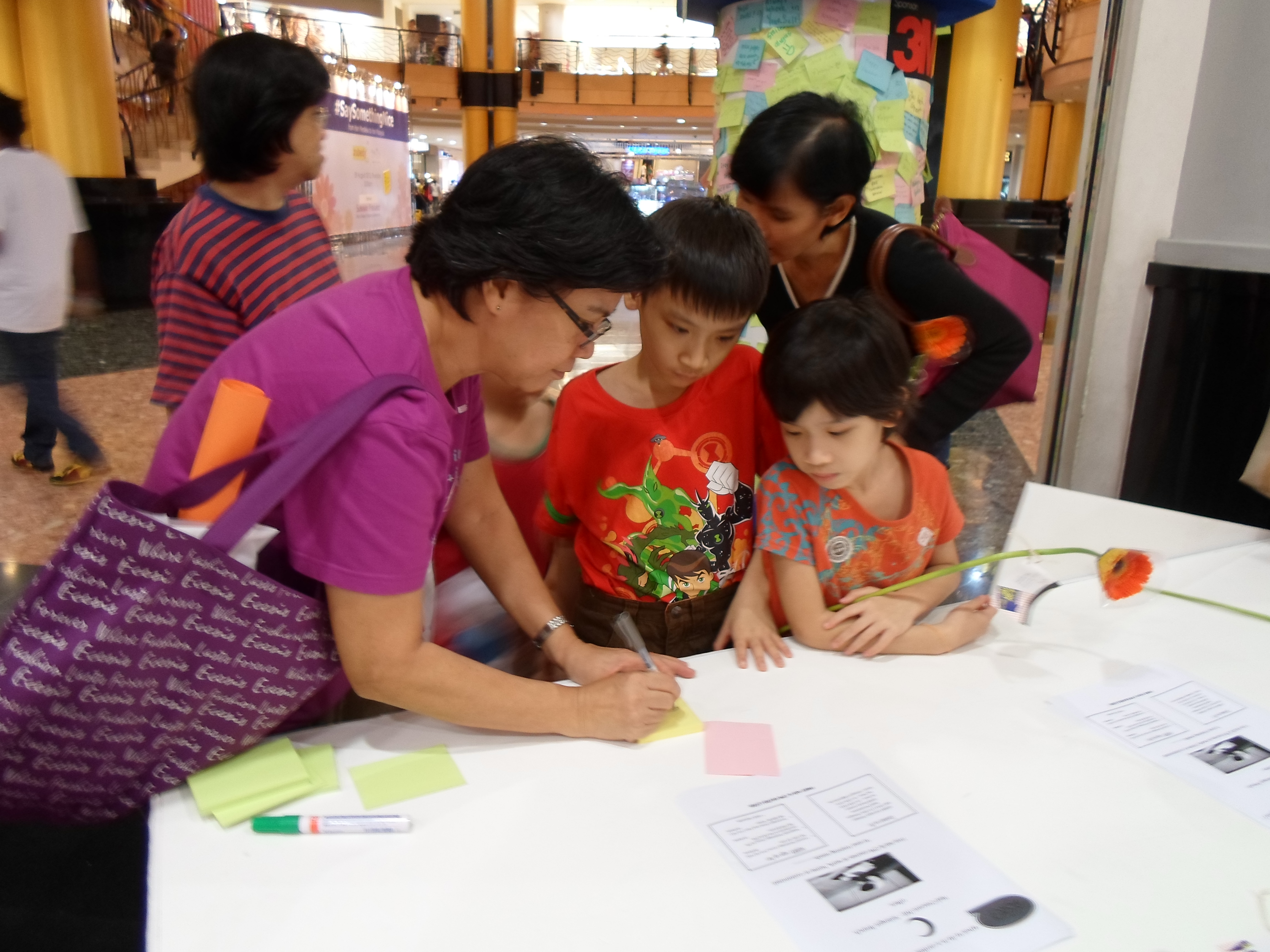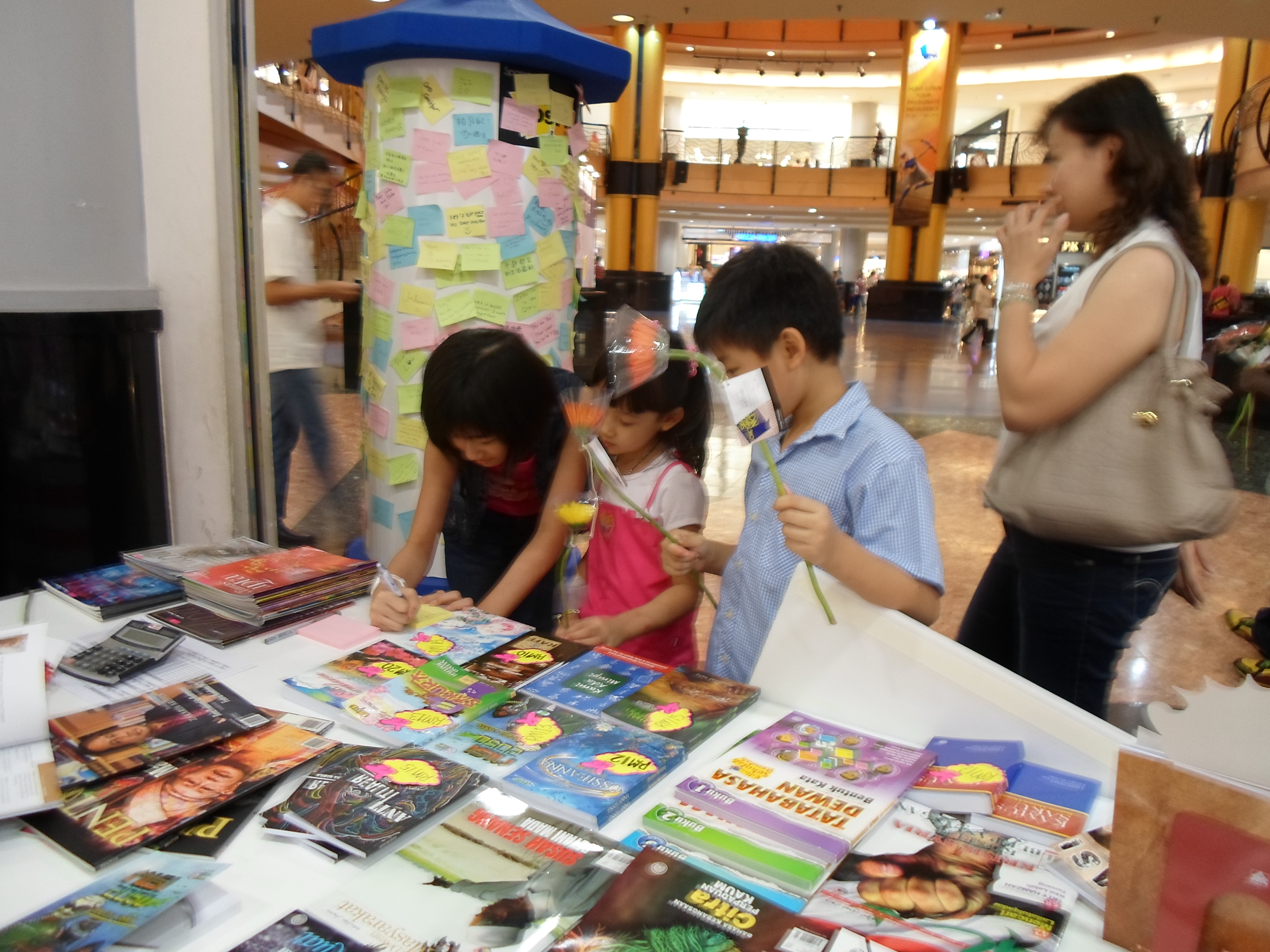 Sunway Pyramid is giving more flowers and balloons to visitors on every weekend until the campaign period ends.
Tropicana City Mall
The display of #SaySomethingNice banner at the mall went up on 26th August 2013 and it will be there until the closing ceremony on 16th September, which will be held at the same space.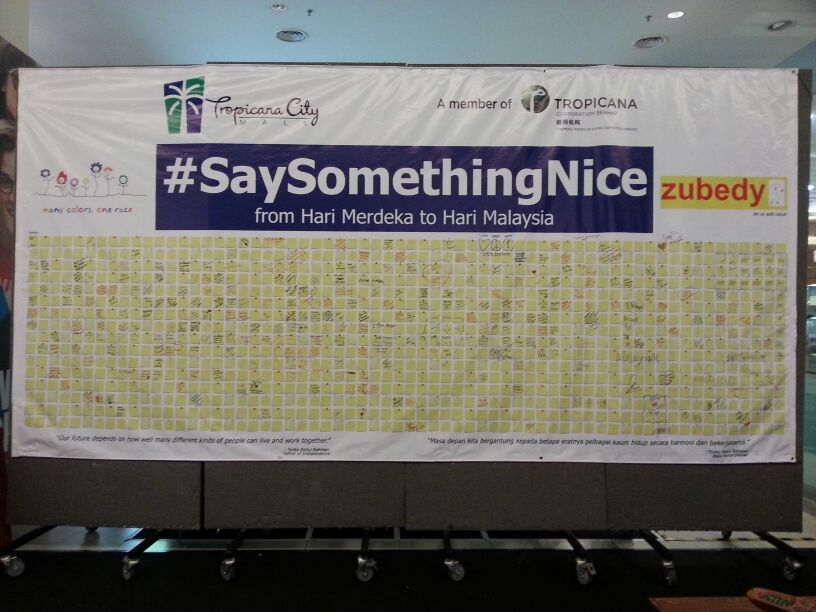 The theme for Tropicana City Mall's #SaySomethingNice is Malaysian Tradition. Traditional games such as congkak and teng-teng (hopscotch) are featured at the space and shoppers can spend their time with their family and friends playing these games.
Tropicana City Mall is also exhibiting Ninot Aziz's 17 illustrations from her A Hikayat A Day.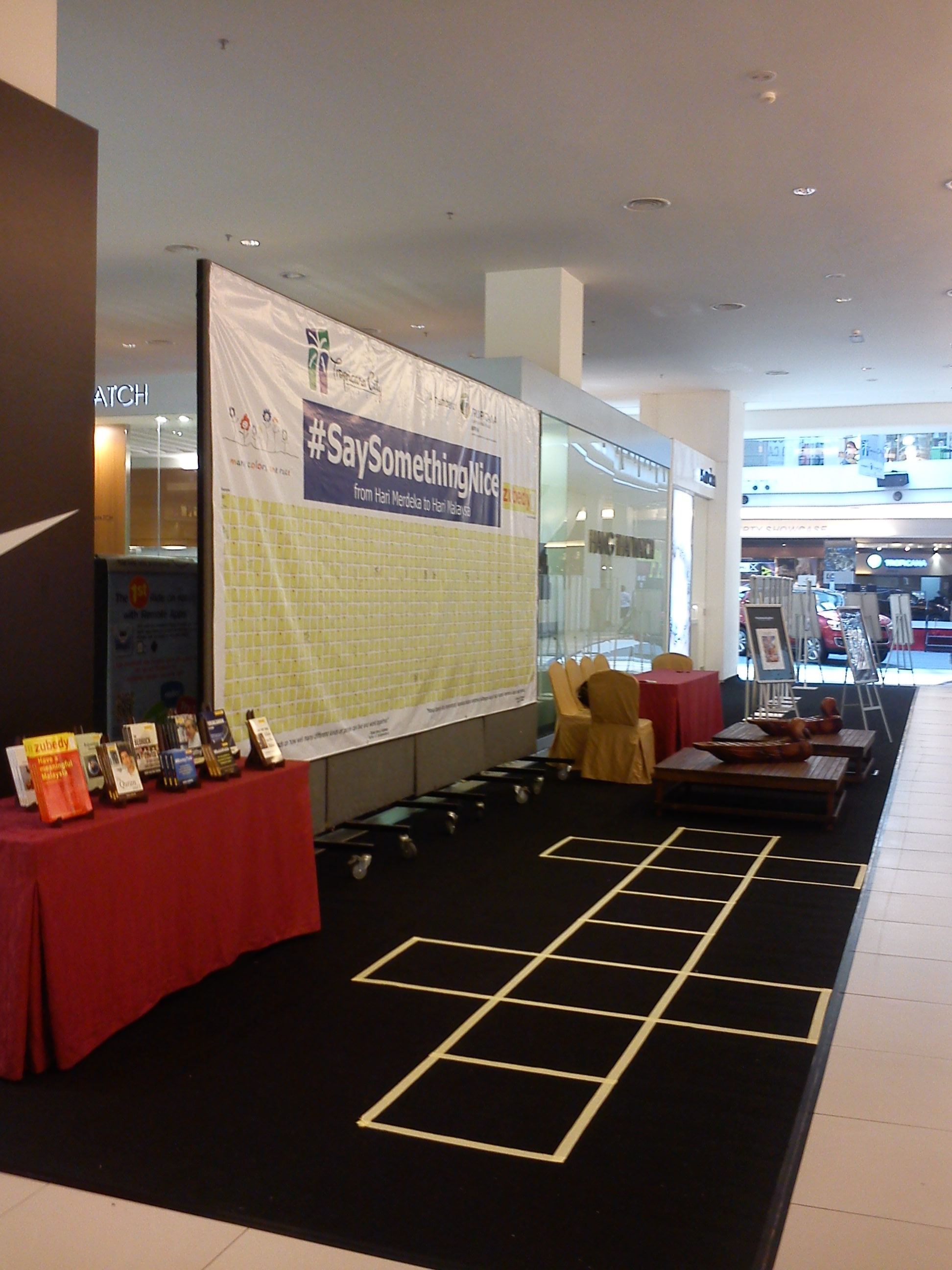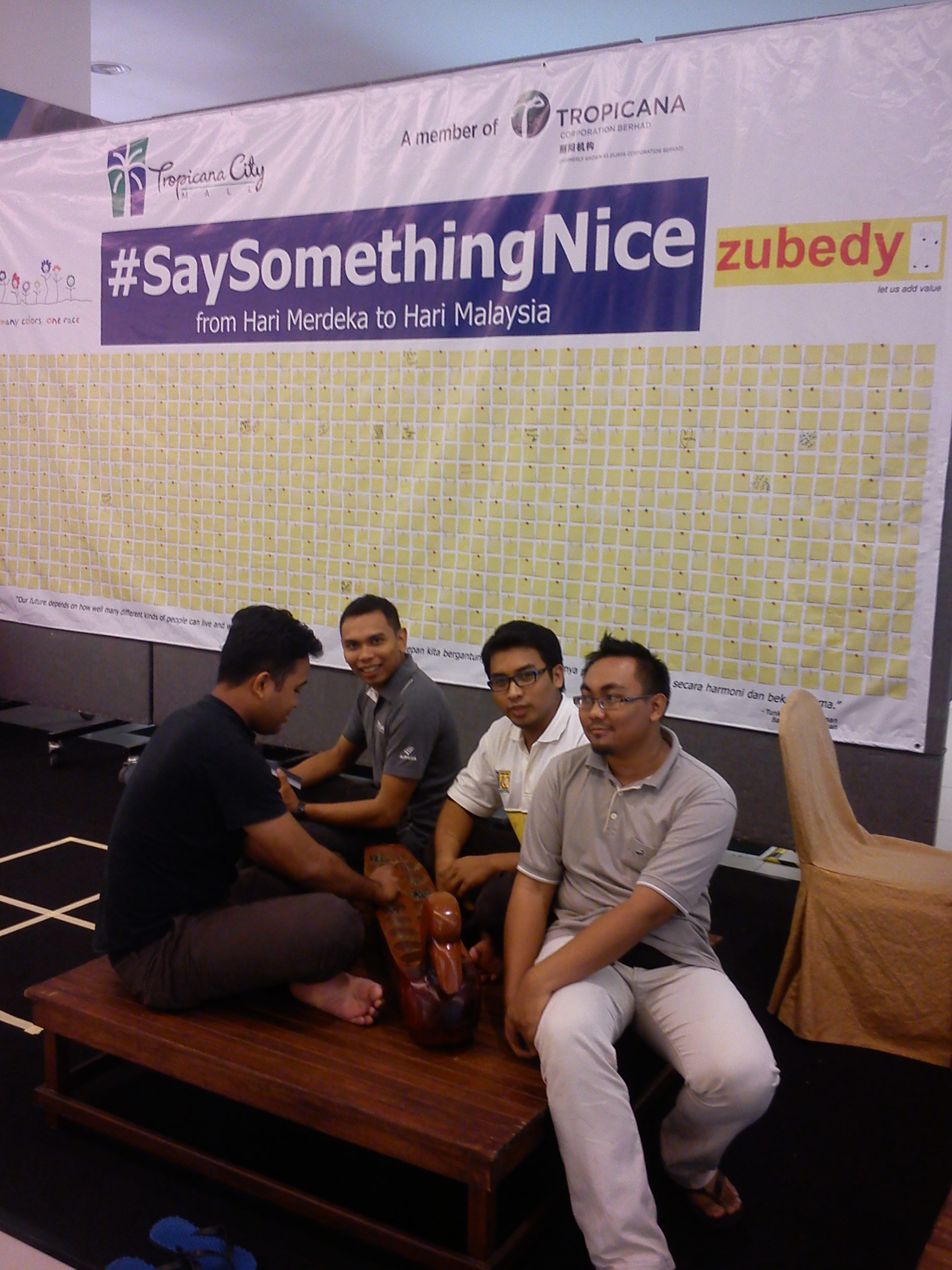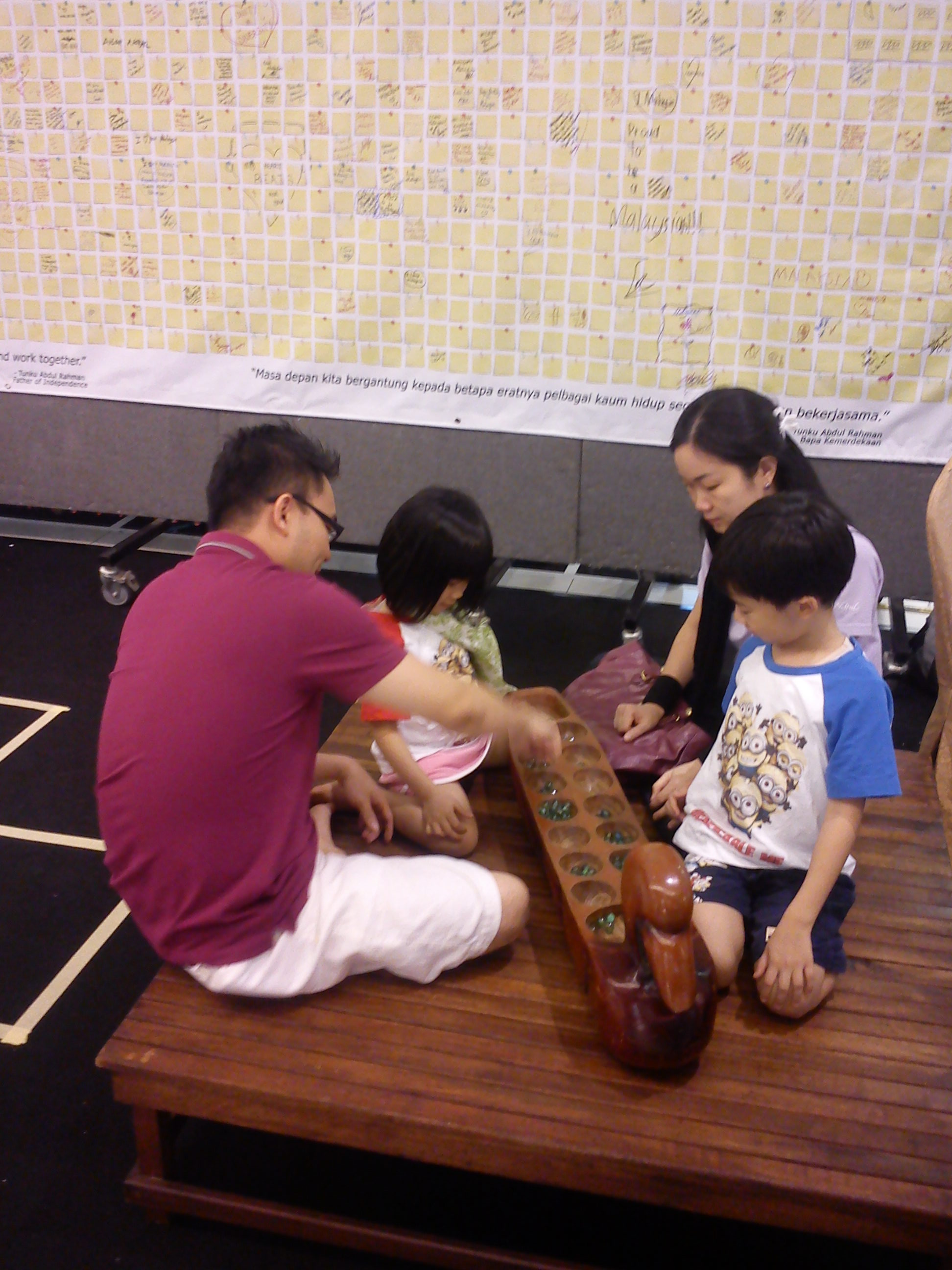 On 31st August, Tropicana City Mall's #SaySomethingNice space was pulsating with one of the campaign supporter's activity. Khema-Yen, her group of mandala drawing instructors, and a group of participants came to draw mandalas together. From 2 p.m. to 5 p.m., they sat together, learned about mandalas, and drew mandalas together to promote the message of healing and showcasing the best of Malaysia.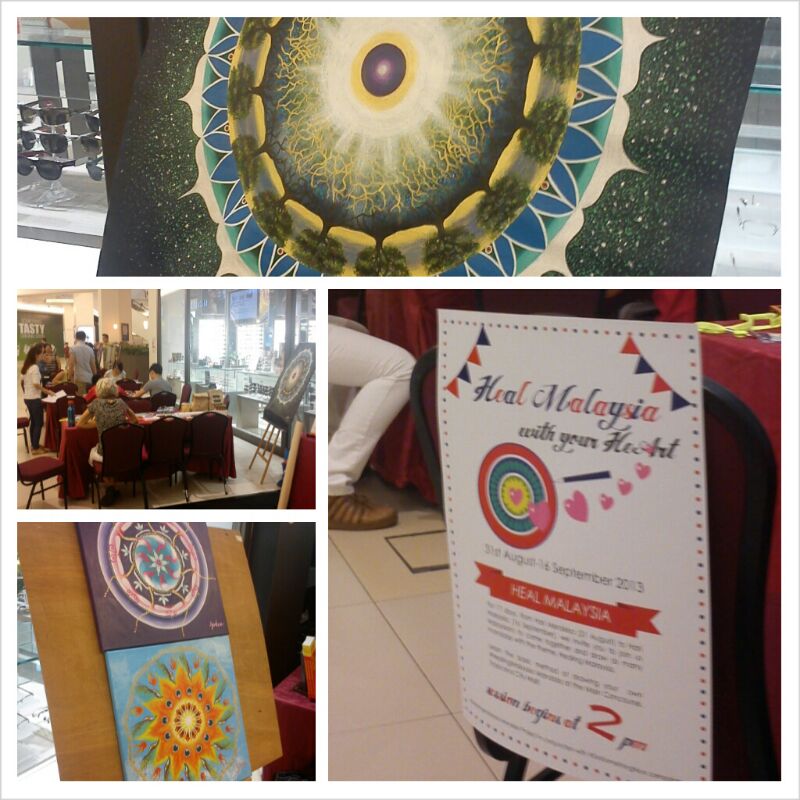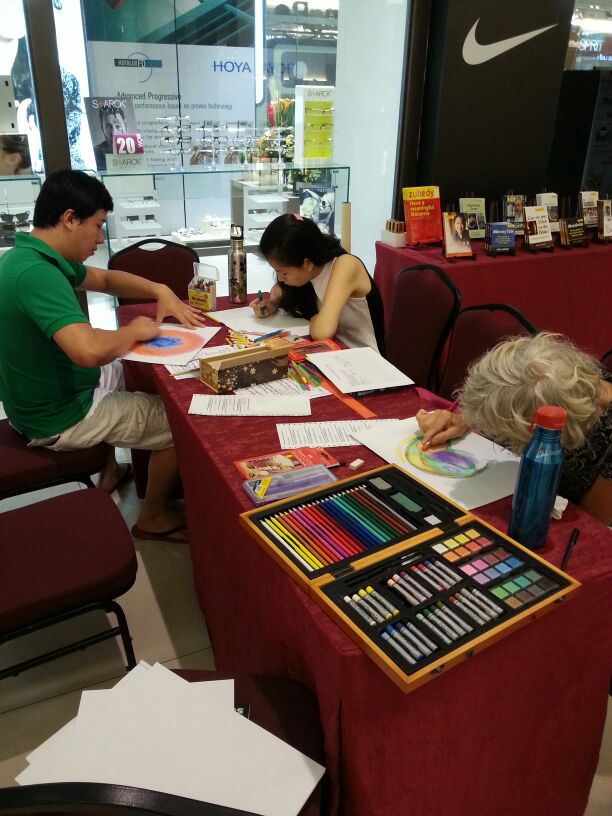 #PlantSomethingNice by TATA Consultancy Services Malaysia (TCS)
TCS plans to donate 500 saplings of neem trees to schools during the campaign period. Their aim is to help the environment as neem trees are known for their environmental and medicinal purposes. On Hari Merdeka, the program was started at SMK Bandar Sunway. TCS employees and their heads brought 70 neem saplings to the school and planted the little trees themselves.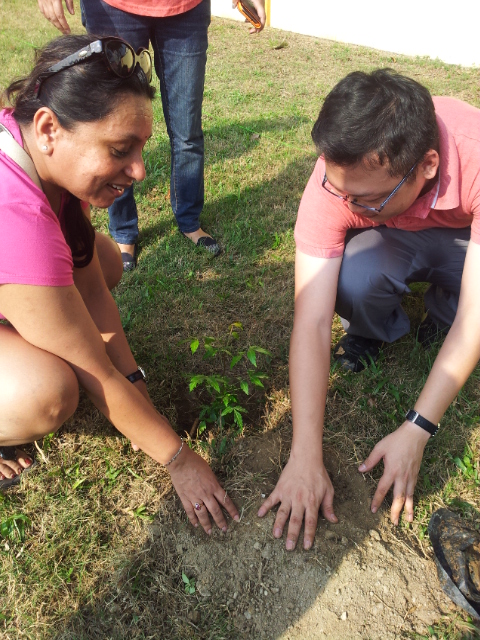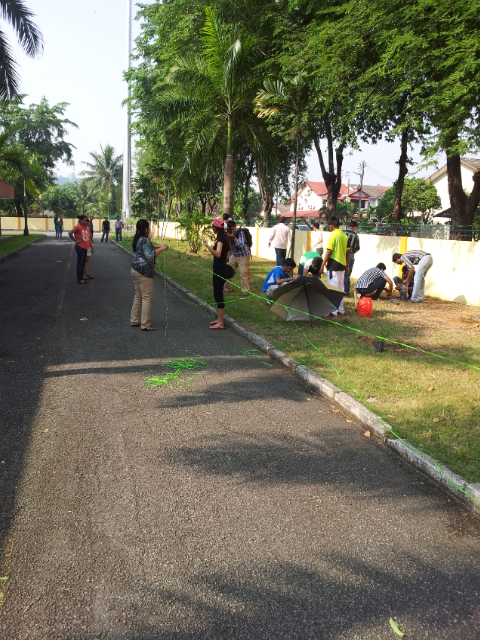 #SaySomethingNice poster by campaign supporters
To serve a platform for Malaysians to say nice things to each other, zubedy has printed posters to be used for this purpose. Many supporters have come to grab them and putting the posters to good use. Positive messages about the country, their people, and their organizations adorn these posters.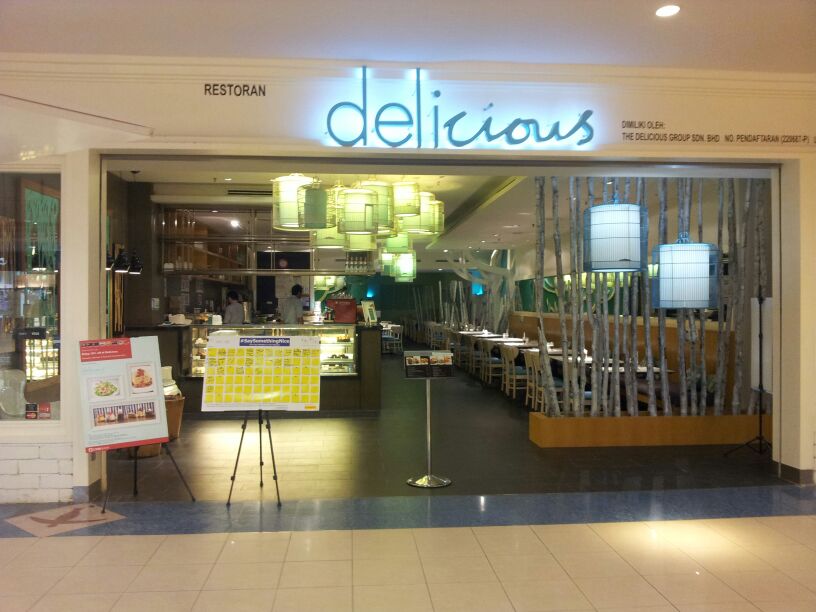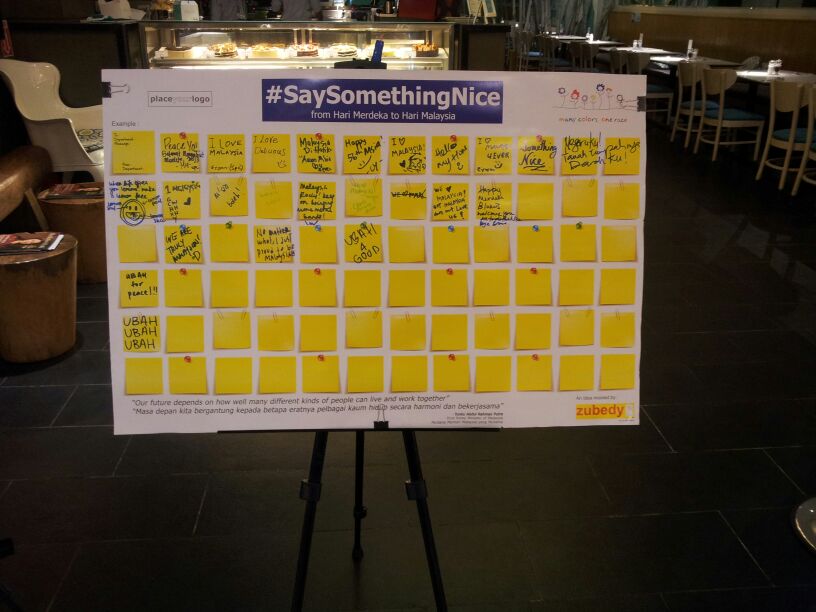 Sekolah Kebangsaan Temenggong Abdul Rahman 1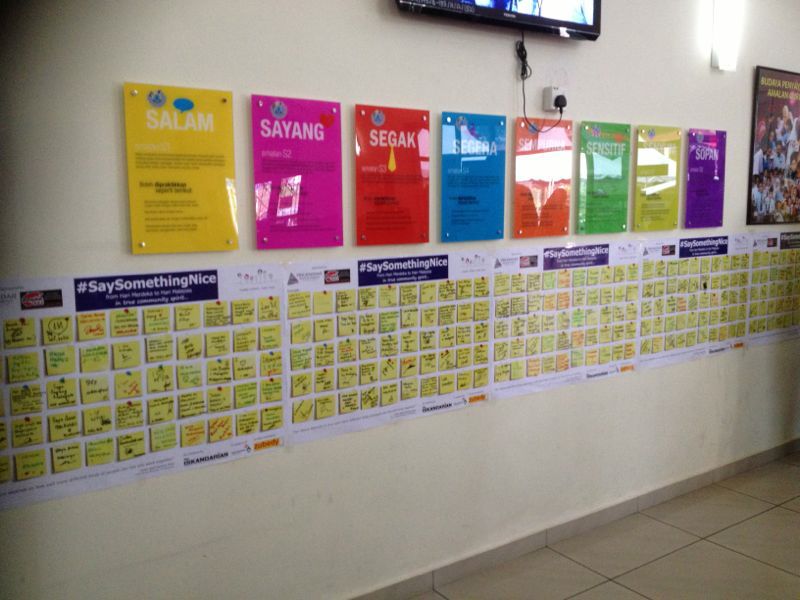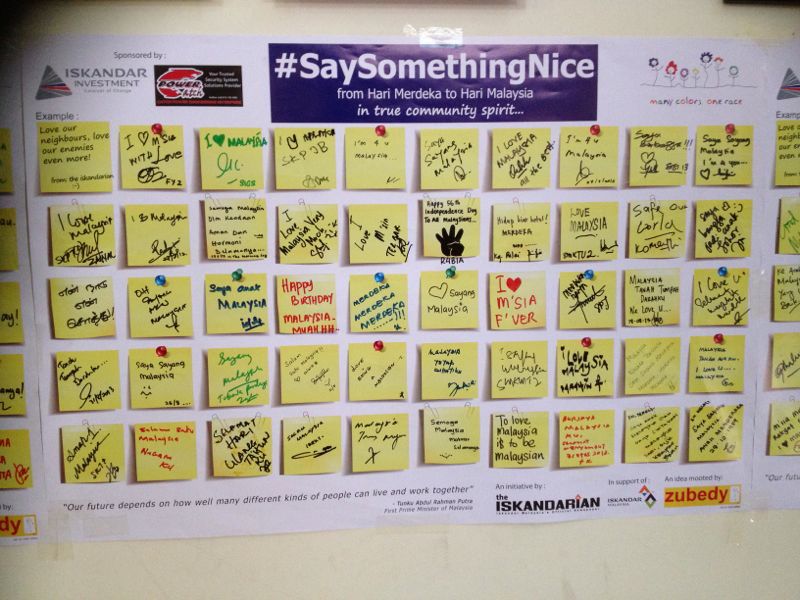 Malaysia Airports Holdings Berhad (MAHB)